The Excellence of Our Athletics School on 2013 Season.
Eight NW Spartans and VOC athletes won the BC Athletics Award and our Head Coach  Tatjana Mece was the winner of the 2013  "Excellence in Coaching " for senior coach.
Last Saturday, on Dec. 7, BC Athletics  AGM and 2013 Awards Banquet was  very emotional  events for all of us. Beside great success of BC Athletics and all athletes of the province, the most spectacular ones were the achievements  of the athletes  from  our  athletics  school.
In  this well organized and  spectacular ceremony,  there were 5 winners  from our program for the Midget  age group.
For the girls of this category,  the top winner  was Nina Schultz of NW Spartans who broke the Canadian and BC record of Pentathlon with 3332 points. Schultz dominated this year and won the awards and at 5 other events as 80H, 200mH, LJ, TJ, HJ.
Other winners  from VOC were and Megan Picken, a BC Champion  in 800m and Hannah Johnston winning the awards in 80mH and 200mH.
For the boys,  the winners were; Jasper Schiedel , who broke the Canadian and BC record of Pentathlon with 3257 points and 1000m with the new time of 2:45.48. and Javier Sances-Mejorada who won the award in his favorite sprint events of 200m and 300m
Very competitive was the Award ceremony for the Youth category.
All five nominated athletes  for girls and boys  to win the award competed at World Youth Championship and achieved great results but the winner for girls was Stephanie Cho of VOC,  who broke 5 BC records, BC champions in 300mH and ranked 11th in the world in 400mH.
The award winner for men was  Mihailo Stefanovic  of NW Spartanas, who broke 3 BC records, the  110mH BC and Canadian champion in 110mH, ranked 21 in the world and 300mH Canadian champion.
The last award for the athletes belong to Jemal Reta of NW Spartans who runs amazing  race at Canadian National Cross Country Championship on Nov.29, winning the Silver medal with BC Provincial junior team. Jemal Reta was awarded as the 2013 Youth Cross Country of the Year.
And in the final, the well deserved  award for the best coach of the year, belong to our Head Coach Tatjana Mece, who won "2013 Senior Coaching Excellence".
Congratulation to all athletes, coaching staff, parents and board of the directors  for this huge victory.
[nggallery id=7]
---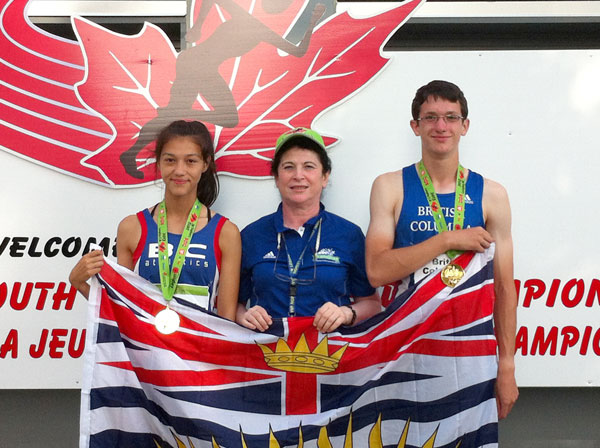 On August 9-11,2013, more than 650 top athletes of the country competed at Canadian Legion Track and Field Championship in Langley BC.
As always, the New West Spartans athletes dominated with the gold standards.
Mihailo Stefanovic, after his great results at World Youth Track and Field Championship in Donetsk, where he makes the semi-final in 110mH with a new BC record, won double gold medal in his favorite 110mH and 300m H.
This achievement put him at the top athlete position for the BC boys team.
Bogdan Pavel, had a solid run winning Bronze in 110mH with the best personal and championship time of 14.44. The results of Stefanovic and Pavel, show one more time the dominance of New West Spartans school of hurdles in the country.
Nina Schultz, as we predicted, did a great presentation in pentathlon for midget girls winning the gold medal.
Schultz collected 3332 points and set a new BC, new Championship, and new Canadian record in this event.
Nina Schultz, as part of 4x100m relay BC Midget girls team, run a strong third leg winning also another gold medal.
New West Spartans Head Coach, Tatjana Mece was the BC Provincial jumps and combine events coach and achieved great results with her athletes.
In the end of the 2013 Canadian Track and Field Championship, New West Spartans came back in Royal City with 5 new medals, 4 Gold and one Bronze, increasing the all time total number of national Canadian Championship at 19 medals, 9 Gold,5 Silver and 5 Bronze.
Stefanovic shine at World Youth Championship.
Canadian Track and field Team already left for the 8th World Youth Track and Field Championship in Donetsk, UKR and Mihailo Stefanovic put NW Spartans in the world track map with his participation at this major event. Stefanovic, is # 1 athlete in the country  for U18 in 110mH event where he will compete against top world athlete.
At the qualification round of 110mH on July 11, Stefanovic had a great performance and broke BC record with the new time of 13.98 a new PB that qualified him for the semi final race on July 12. With this new results, Canada and New Westminster are ranked at 15 place in the map of World Youth Track  and field championship.
Stefanovic comes to this level from the long way of 8 years preparation as part of New West LTAD program leaded by NW Spartans coaches team.
Good luck to Mihailo in semi final.
NW Spartans Shine at the Final BC Jamboree Provincial Championship.
Stefanovic sets a new BC Record in 300mH.
The elite of 7 Spartans athletes competed at the final BC Jamboree Provincial Championship in Kamloops on July 19-21,2013.
All the athletes had great performances winning 11 medals (3 Gold, 6 Silver and two Bronze).
Nina Schultz open the gold series with winning two champion titles in High and Triple Jump. Nina was runner up in 80mH and 200mH with personal best. Winning one more silver in Long Jump with 5.20m, and achieving BC provincial team standard in 6 events, she shows her potential for winning Pentathon National title in Canadian Championship next month.
Our school of hurdling confirmed the provincial and national dominance with Mihailo Stefanovic and Bogdan Pavel in 110mH and 300mH.
Stefanovic, after his great performance and long trip back home from the World Youth Championship in Donetsk (UKR), does not have a good starts in 110mH but he adjusted his rhythm after the second hurdle finishing second.
Mihailo had an amazing performance in 300mH setting a new BC Record in 300m with 38.09, and ranked # 1 in the country in both events.
Bogdan Pavel demonstrate his hurdling talent achieving a personal best in both events and winning the bronze medal in 110mH with the provincial standard time of 14.44.
Jemal Reta, coming back after his injuries from the basketball school program, run strong in 2000m steeplechase winning silver with the time of 6:13.91, a personal best of 10 sec.
Manisha Kandola perform well winning in her favorite events with a silver medal in HJ and a bronze in 100mH.
Tamara Harris and Domunique Booker run solid in their respective events of 400m, 800m and 100mH achieving good results.
A team of five Spartans including M.Stefanovic, Bogdan Pavel, Reta, N.Schultz, and Booker achieved the standards for the competition at Canadian Legion National Championship on August 9-11, in Langley, BC. All the athletes are continuing the preparations for their final competitions under the Spartans coaches team.